I used the same name for an earlier expansion mode team, where I added in a few success mode players, including my attempts at shouldn't-have-retired guys like Bonds, Clemens, and Bernie Williams. That was too easy!
This time, it's game-created expansion players only. Graybars! The best the game had to offer, culled from 8 or 9 expansion teams, into one arrange team. I will be playing in the AL West, focusing on one player per post, and adding a tip of the day to other guys trying this
Expansion Mode Challenge
! Lets see who can post the best record over a whole season!
This team is branded from Honolulu, but I gave them a home park of Panpaka….oops. I might restart and change that, but for now here goes!
Settings:
Rosters: 2008 Edited, with any created players signed before the 2008 draft.
Difficulty: All-Star (CPU Batting, Fielding, Pitching)
Pitch speed: Fast
Manual fielding, semi-auto baserunning
Tip of the Day:
When facing a pitcher in the best possible condition (purple jumping smiling face), if they have a lot of breaking pitches, try to take more pitches. With all the additional movement, curves and changes are more likely to land outside the strike zone. I just faced Kelvin Herrera and was able to work a few walks using this strategy!
Player of the Day:
Attachment:

IMG_2284.jpg [ 22.65 KiB | Viewed 8632 times ]
Attachment: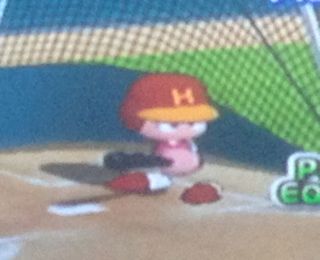 IMG_2285.jpg [ 17.51 KiB | Viewed 8632 times ]
1B Heitpas is a righty first baseman with very lackluster fielding abilities. He has one tool, and that tool is power. His 170 power leads the team, and a 4 trajectory on top of it? Well, it almost offsets his terrible F ratings in everything else. Hietpas is basically Terry from success mode - you have to hope for a pitch down the middle. So far he's hitting .274 with 2 HRs, 9 RBI.
With another high-power 1B on the roster with better fielding, Hietpas is our first choice at DH. We really wish he was a lefty, but some lefty IFers and OFers give us enough balance overall…who teaches their kid to throw lefty but hit righty?? What a terrible mix. Still, given the plethora of sub-par expansion creations, we're lucky to have a B in anything. A few months of practice at contact might make Hietpas a true threat.