Alaska King Crabs
From MLB Power Pros Wiki
Background
The idea for this team came once I started to make more success players. I saw the other teams and figured, why not! I like the show Deadliest Catch a lot, and want to do that job, so i used it as my team name. Their colors are supposed to resemble crabs. Some of the players are based on real people, so I don't want to put their names. I'll just put ? instead. I have all the MLB pitchers , the starting fielders for MLB, both my power DH and my contact/speed DH, my defensive/ pinch runner OF, and all of my AAA players. I'll post everyone and pics and such as soon as i can get some free time with my wii, the computer and the digi camera.
Uniforms, Logos, and Marks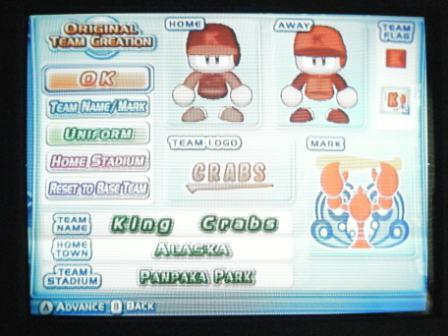 Here are all the uniform colors and such for my team.
Batting Order
For the players marked ??, all fielding positions are the same for both batting orders, so the players with the same position are one guy.
| NL Batting Order | Name | Position | Al Batting Order | Name | Position |
| --- | --- | --- | --- | --- | --- |
| 1 | Jamie Collins | SS | 1 | Jamie Collins | SS |
| 2 | Jason Finn | CF | 2 | Jason Finn | CF |
| 3 | Chase Roberts | 2nd | 3 | Chase Roberts | 2nd |
| 4 | ?? | 3rd | 4 | Ryan Boyd | DH |
| 5 | ?? | RF | 5 | ?? | 3rd |
| 6 | Ronni Bass | LF | 6 | ?? | RF |
| 7 | ?? | C | 7 | Ronni Bass | LF |
| 8 | Jose Oceania | 1st | 8 | ?? | C |
| 9 | Pitcher | P | 9 | Jose Oceania | 1st |
MLB Roster
Pitchers
For anyone who isn't sure about pitches, check here
| Player Name | Nick Name | B/T | Role | Top Speed | Control | Stamina | Pitches | Abilities | Description |
| --- | --- | --- | --- | --- | --- | --- | --- | --- | --- |
| Martin Bergman | Bergman | R/R | Staff Ace | 92 mph | 141 | 153 | SHU 3, DCB 5, CHG 3 | W/RISP 4 Poise 4 Battler Gyroball | My gyroballing staff ace, he has great overall ability with a good DCB. |
| Tony Yettin | Yetti | S/L | #2 Starter | 85 mph | 135 | 113 | SLD 2, CB 5, CHG 2 | W/RISP 4 Spin 4 Poise 4 Groundball Pitcher Safe Pitch Consistency 4 Gyroball | My junkballing #2 man, his lack-luster fastball is made up by the gryo spin. Good stuff and abilities. |
| Freddy Stone | Stone | R/R | #3 Starter | 91 mph | 138 | 115 | SLD 3, CB 5, CHG 5 | W/RISP 4 Poise 4 Release 4 Lucky Good Pickoff Battler | My #3 starter, he has a good CB and CHG, complimented by an average SLD. Decent overall. |
| Randy Phillips | Phillips | L/L | #4 Starter | 91 mph | 135 | 134 | SLD 4, SLV 3, PALM 4 | W/RISP 4 Poise 4 Recovery 4 Flyball Pitcher Battler | A serviceable player, he can keep hitters guessing with his SLD/SLV combo, and backs it up with a PALM. Prone to deep flies. |
| Matt Deroush | Deroush | L/R | #5 Starter, Knuckler | 88 mph | 143 | 146 | KN 6, CB 2 | W/RISP 4 Poise 4 Recovery 4 Groundball Pitcher Good Pickoff Battler Intimidator | A good #5 knuckler, based off Tim Wakefield, with his pitching form. Good overall abilities, with higher speed for a knuckler. CB compliments KN well. |
| ?? | ?? | R/R | Swing Man | 85 mph | 137 | 105 | SNK 3, FOSH 2, KNCB 2 | Poise 4 Poker Face Intimidator | My first success mode pitcher, he didn't turn out all that great. Still usable as a long reliever, though. |
| Marlin Dusty | Dusty | R/R | Long Reliever | 95 mph | 142 | 120 | FORK 2, V-SLD 4, DCB 2, SLD 4 | W/RISP 4 Spin 4 Poise 4 Battler | With good stamina, he can fulfill long relief duties with ease and start in a pinch. V-SLD/SLD combo is killer. |
| Markus Icicle | Ice | L/L | "Fundamental" Middle Reliever | 91 mph | 140 | 85 | H-SLD 3, FORK 4, SC 4 | Poise 4 Release 4 Fastball Life 4 | The "colder" half of my elemental middle duo, his focus is more on fundamentals, and just getting hitters out. |
| Greg Flameden | Flame | R/R | "Junkballing" Middle Reliever | 88 mph | 152 | 90 | CUT 3, CB 4, CHG 3 | W/RISP 4 Poise 4 Spin 4 Good Delivery Battler | The more "fiery" end of my hot & cold middle relievers, his focus is more stuff, getting batters to swing and miss, fly out, ect. |
| Chris Baker | Bake | L/L | Situational Lefty | 89 mph | 142 | 70 | H-SLD 4, SPLIT 3, H-SNK 4 | Poise 4 Good Reflexes Strong Finisher VS Lefty 4 | With decent command, average top speed, and VS. Lefty 4 he can fulfill the role of situational lefty with ease |
| George Cloudier | Cloud | R/R | Set-Up Man | 92 mph | 135 | 70 | 2-seam FB, CUT 4, SCB 4 | W/RISP 4 Poise 4 Fastball Life 4 Battler | A good set-up man, his only weakness is his lack of Strong Finisher. Other than that, he is a very good "Cloud" before the "Lighting" |
| Andy Light | Lighting | R/R | "Lights-out" Closer | 92 mph | 121 | 70 | SLD 7 | W/RISP 4 Poise 4 Fastball Life 4 Release 4 Spin 4 Recovery 4 Strong Finisher | First the Cloud, then the Lighting! My storm duo does an excellent job of finishing the game off. Light has a killer SLD. |
Fielders
| Player Name | Nick Name | Position(s) | B/T | Trajectory | Contact | Power | Run Speed | Arm Strength | Fielding | Error Resistance | Abilities | Descriptions |
| --- | --- | --- | --- | --- | --- | --- | --- | --- | --- | --- | --- | --- |
| ?? | ?? | C | R/R | 2 | 10 | 90 | 7 | 9 | 11 | 15 | Clutch 4 Tough Out Throwing 4 Great Catcher Gold Glover Consistency 4 | A fairly standard "defensive" catcher. He has maxxed-out error resistance, ensuring nothing gets by him. His Great Catcher ability also allows the pitching staff to go deeper into games and have better command. |
| Jose Oceania | Ocean | 1st | L/L | 3 | 8 | 139 | 4 | 2 | 8 | 10 | Clutch 5 Power Hitter Good Bunt Tough Out Good B2B Hitter | Originally intended to be my slugger, he fits well at the bottom of the lineup, turning it back over to the top. Poor defensively, I usually put my RF at first and have Hawk play right later inot the game. |
| Chase Roberts | Roberts | 2nd | L/R | 2 | 12 | 138 | 13 | 10 | 12 | 11 | Stealing 4 Contact Hitter | A #3 hitter needs to be decent at just about everything. Chase gets the job done. Not particularly skilled in any one area, his few abilities are very useful to a #3 man. |
| ?? | Terminator | 3rd | R/R | 3 | 10 | 140 | 7 | 10 | 12 | 13 | Power Hitter Firstball Hitter Head First Slide | Not a huge power threat, due to his below-average (for a slugger) power, and the size of Panpaka Park, but can go the yard often enough to hit clean-up. He can still drive runs in and hit for contact if the need arises. Also has strong defense. |
| Jamie Collins | Collins | SS | S/R | 2 | 13 | 120 | 14 | 10 | 13 | 12 | Contact Hitter Tough Out Good Infield Hitter Durability 4 Consistency 4 Stealing 4 | Probably the best fielder I've ever made, (though still not that great). He has great speed and good contact, combined with his special abilities and decent fielding, he is an excellent lead-off hitter. |
| Ronni Bass | Sunshine | LF | L/L | 3 | 10 | 130 | 11 | 12 | 12 | 13 | Clutch 4 Tough Out Firstball Hitter Durablilty 4 Gold Glover Cannon Arm Head First Slide | Based off the QB from Remember the Titans, he has a good arm and overall decent abilities. He is good at the bottom-middle of the lineup, getting on for Ocean to drive in. |
| Jason Finn | Finn | CF | L/R | 2 | 10 | 100 | 11 | 10 | 12 | 13 | Clutch 4 Tough Out Contact Hitter Good Infield Hitter Consistency 4 Stealing 4 Gold Glover Cannon Arm | A good defensive center fielder, he can get on base and steal while also being able to advance the leadoff man well. With some work on power, he'll easily become a star. |
| ?? | ?? | C RF 1st | R/R | 2 | 12 | 125 | 7 | 11 | 13 | 13 | Clutch 4 Tough Out Good B2B Hitter Throwing 4 Consistency 4 Gold Glover Cannon Arm Head First Slide Great Catcher | Originally intended just to be a fun player, I decided to make him my starting right fielder. Good overall, he usually gets moved to first later in games and is replaced by Hawk. |
| ?? | ?? | C 1st | R/R | 2 | 8 | 100 | 11 | 10 | 15 | 15 | Clutch 4 Tough Out Bunt Master Hot Hitter Firstball Hitter Throwing 4 Consistency 4 Stealing 4 Baserunning 4 Gold Glover Pivot Man Head First Slide Tough Runner Good Block Good Catcher Slugger Aggressive Fielder Aggressive Runner Aggressive Stealer Aggressive Hitter | Based on a female friend of mine, she has a very fiery personality, making her a perfect catcher/1st baseman (if she played ball). With good speed and basepath abilities, and superb defense, she can platoon with my starter excellently, and be a great regular back-up. |
| Ryan Boyd | Boyd | DH 1st | R/R | 4 | 11 | 197 | 12 | 4 | 4 | 4 | Clutch 5 VS Lefty 4 Power Hitter Hot Hitter Table Setter Walk-Off Hitter Good Pinch Hitter Consistency Stealing 4 Baserunning 4 Head First Slide | A skilled DH, who can hit for both good power and contact, useful in Panpaka Park. Speed is helpful as well, but no fielding. |
| Paul Dash | Dash | DH LF | S/R | 2 | 15 | 132 | 15 | 3 | 3 | 4 | VS Lefty 4 Contact Hitter Great Infield Hitter Firstball Hitter Table Setter Walk-Off Hitter Good Pinch Hitter Consistency 4 Stealing 4 Base Running 4 Head First Slide Tough Runner Barehand Catch | A near-perfect contact-speedster DH, he can both pinch hit and pinch run excellently and platoons with Boyd. Like Boyd, no fielding. |
| Miguel Carpo | Carpo | 2nd SS 3rd | L/R | 2 | 8 | 105 | 12 | 13 | 15 | 15 | Clutch 4 Throwing 4 Gold Glover Consistency 4 Barehand Catch Pivot Man | My defensive infielder, he has maxxed-out fielding and error ressitance, a good arm, and a few key abilities, making him a great late-game or defensive sub. Average hitting, but good speed, so i use him to run sometimes as well. |
| Shane Hawk | Hawk | RF CF LF | S/R | 2 | 8 | 105 | 12 | 13 | 15 | 14 | Hot Hitter Throwing 4 Gold Glover Cannon Arm Head First Slide | An excellent defensive sub in the outfield, he also is a good threat on the basepath. With average skill at the plate, he can occasinally pinch hit. |
AAA
Pitchers
Fielders